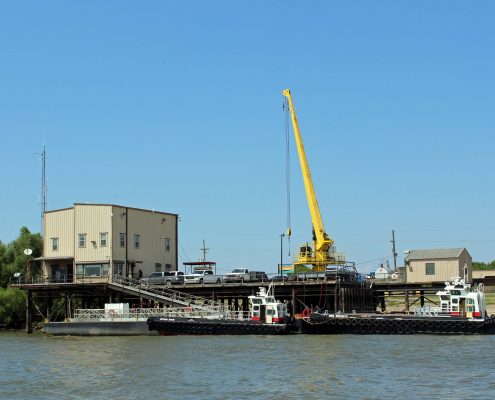 Since 1945, Port Ship Service has been a family-owned and operated maritime transportation service. Our six locations service the lower and upper Mississippi River. These stations employ twenty-two U.S. Coast Guard certified boats, nine transportation vehicles and over one hundred employees. All stations are equipped with heavy lift cranes and forklifts to facilitate efficient loading of provisions, anchors, man-lifts, gangways, spare parts, or any other needs of your vessels. Included in the crew boat ensemble are six large supply vessels, one for each location, which can carry up to thirty tons with speeds up to twenty knots.
Port Ship Service has long been a leader in service, catering to the needs of the vessels traversing the Port of New Orleans. Whether transporting a river pilot to your vessel or loading those necessary provisions, Port Ship Service is always open, twenty-four hours a day. It is the intention of the Willhoft Family to insure that your vessel receives the finest service and your agent or representatives are transported by the fastest and safest means possible.
When your vessels are in route to the Port of New Orleans, please consider using Port Ship Service for all your water transportation needs. We are a family-owned, quality-minded service with you, the owners, in mind.
Special contract terms are available. Please contact our Main Office or our Piraeus Representative.
Main Office
7121 N. Peter Street
Arabi, Louisiana 70032
Mailing Address
P.O. Box 369
Arabi, Louisiana 70032-0369
Office:  (504) 279-0486 or (504) 271-6391
Fax: (504) 271-9337
Piraeus Representative
Thomas Psarras
Phone:  210-4110594 / 4130488
Fax: 210-4220111
History
Port Ship Service has been a maritime transportation business since 1945, started by Freddy (Fatty) Willhoft. The original fleet was six converted wooden shrimp boats. Raymond Willhoft Sr. later took over after the death of his father.
Today, Port Ship Service is still family-owned and operated by Raymond Sr.'s two sons, Raymond Jr. and Rod Willhoft and daughter, Terry Willhoft Waldo. With its fleet of twenty-two U.S. Coast certified aluminum crewboats, Port Ship Service prides itself as being the largest and most efficient launch service in the Port of New Orleans.